Can auctioneers really go paperless?
1/01/2019 Alexander Clement
Back in 2016 when I was Asian Art specialist at Halls Fine Art in Shrewsbury, UK, I posted the following tweet: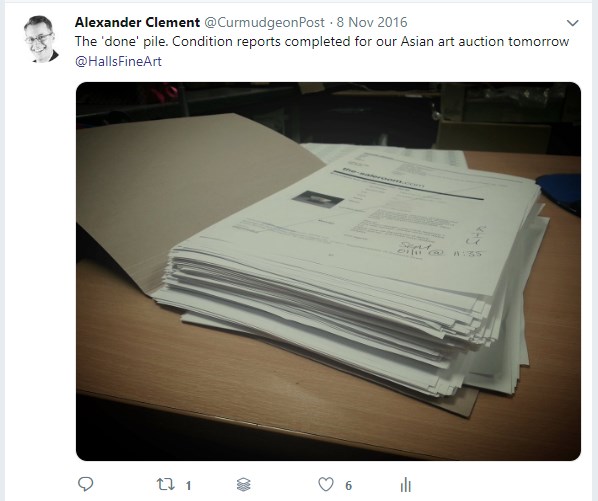 I had printed out and worked through all the condition reports that had come in, using up nearly a ream of paper in the process. This was par for the course, reaching a peak in the Spring of 2018 when I recorded no less than 750 email requests for reports and took over 1,000 images for an auction with fewer than 300 lots. It was a massive hill climb and necessitated many hours overtime and a small forest worth of trees in paper. Some specialisms are more prone to this than others, the buyers in the Asian art field being particularly demanding, partly because they are often bidding from great distances. But it has become an intrinsic part of every auction specialist's duties; to hunker down for the tidal wave of emails that flood in within minutes of an auction going 'live'.
When Halls adopted the Go Auction back office system, however, this all changed. Not the volume of requests, that remained as strong as ever, but the way in which we processed them. Messages that came via the-saleroom.com as well as our own website were aggregated through Go Office and ascribed to staff members according to item category. We then had a single portal through which to handle all the requests, sending out links to pre-written reports with high-resolution images at the push of a button. At a glance I could tell how many report requests I had to deal with, ranking them by time/date received or by lot number, so I could manage my time and workload accordingly.
"I also, significantly, didn't print a
single report. I had no need."

The acid test of this for me was my November auction, the first Asian sale catalogued, printed and uploaded through the Go system. Yes, the emails flooded in as before but this time I could keep on top of them without all of the hair-pulling and staying behind until 10pm. I also, significantly, didn't print a single report. I had no need. I kept track of everything through Go. If I'd had a tablet with a rear-facing camera, I could have performed the whole task with one device.
So can a fine art auctioneer go paperless? I believe we can get really close. With a properly intuitive back-office system that reduces the need to print anything, there is scant reason to resort to paper. Even contracts, invoices and collection notes can be generated and signed electronically with the right equipment. I expect there will remain buyers and sellers who need to have printed documents - not everyone has an email address, even now - but it is a shrinking demand. Once cheques are no longer part of the banking system and all payments happen by electronic transfer, the paperless office must only be a short reach away.